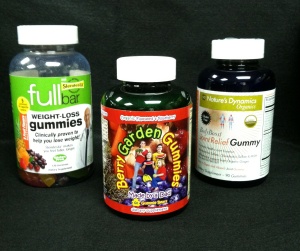 Gummy Bears is one of the most popular means of encapsulating an active ingredient and this successful confectionery "carrier" is only gaining in velocity as most Dietary Supplement companies scramble to throw their 'hat in the ring'.  Some supplements that are currently being injected into Gummy Bears include Probiotics, Vitamins, Calcium, Glucosamene, Dexatrim and many others.  Chocolate is also being used as an alternative to house these dietary supplements to make the daily routine of taking vitamins a little more enjoyable.
As these candy supplements get ready for retail sale, there are several packaging options that companies should consider.  The most popular packaging solution for Gummy supplements are HDPE bottles with a CRC (Child Resistant Cap), a full wrap-around label, date and lot coding, a neck band that is shrink wrapped for tamper evidence and a typical pack out of 12 units per shipper case..  Depending on the fill weight and gummy count being packaged, the size of the bottle used can be from a 250cc to 950cc.  Whether these gummies are with or without a sugar coating, often referred to as "sand", the contract packaging operation should have temperature and humidity control while filling them as heat and humidity can make them sticky and difficult to run thru automatic packaging equipment.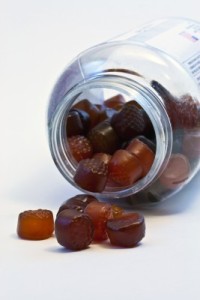 Pouching of these gummy supplements is also very popular and these pouching options include: ziplok pouches, sachets, portion packs, stand up pouches, 4 sided seal pouches, vertical form, fill and seal pouches (has "fin" seal down back of pouch) and side gusset pouches.  The best film structure for these supplements typically a 2 layer lamination to reduce the OTR (Oxygen Transmission Rate) while providing rigidity and a high gloss presentation for the retail shelf.  Sample pouches with only 3-4 candies are also being made for companies who want to get their product into the field before full production mode to ascertain consumer acceptance and demographic metrics.  Work with your packaging partner to help define the best flexible film structure for your product to ensure longevity and shelf stability.
Gummy and Chocolate supplements are currently being sold in almost every retail outlet today including Walmart, Costco, Sam's Club CVS, Walgreen's and others.  Each retailer has their own packaging specifications such as CHEP pallets or a POP display footprint so you should review those closely before developing your supply chain for packaging materials and contract packaging partners.  Most retailers require that certain 3 party audits are done before you can become a vendor to these outsourcing companies.  These could include SQF level II (safety) or level III (quality), AIB, Silliker, BRC, ISO 22000, GFSI and others.
If you are looking for a company to help you develop your own brand of active ingredient supplements in a gummy bear configuration, Albanese Confectionery Inc. is the world's most popular source.  Got to their web site www.albaneseconfectionery.com.  If you are looking for a packaging partner who has experience packaging gummies in bottles and pouches, contact Assemblies Unlimited at www.assemblies.com.