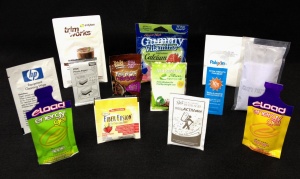 Choosing the best packaging alternatives for individual products is influenced by a host of independent factors related to marketing, compliance, value and functionality.  Merchandising and security requirements are additional considerations at packaging time as well as the size, shape and composition of the products themselves.
Diverse Applications Define This Flexible Packaging Solution
Manufacturers and wholesalers without in-house packaging capabilities utilize reliable partners to bring products to market.  Contract packaging companies work with wholesalers, retailers and manufacturers to implement effective packaging solutions for food and non-food items. Pouching provides a flexible and consistent strategy for packaging dry and liquid goods so the approach is applied across a wide range of industries.
Outsourcing pouching needs to turnkey contract packaging providers ensures that industry standards are maintained throughout the process and facilitates a smooth production flow – from sourcing materials to distributing finished goods.  Established packagers stay on the cutting-edge of pouching technology and maintain local supply and distribution channels, fostering greater cost-effectiveness.
Professional Pouching Consultation
Packaging company project managers collaborate with clients to define pouch size, fill-weight and aesthetic features of each packaging option.  Gusseted, zipper, pre-formed, and roll-stock film pouches are style variations used by packaging providers depending on precise product requirements.  Contract packagers also consult with graphic artists and marketing teams to elevate merchandising potential for each product by enhancing the appearance of packaged goods.
State of the art materials provide the proper film structure and meet client specifications for durability and appearance.  Locally sourced flexible films, including printed varieties, create custom-fitted pouches for a range of products.  In addition to size, configuration, opacity and other custom parameters, packagers build-in merchandising aids like hang-holes and stand-up bottom gussets.  To maximize the shelf life of products, oxygen barriers such as foil or LLDPE layers are integrated into the pouching process as required.
Contract Packaging Services
Pouches effectively contain non-food items but applications for liquid and dry food products are also widespread.  Contracted services include blending and filling options, allowing proprietary formulas to be mixed during the packaging process before being pouched and shipped. Seasonings and other blended powdered goods, like cake mixes and nutraceutical supplements are well-suited for merchandising with printed film pouches.  Vertical pouches with fin-seal closures create economical packets and sachets for smaller quantities of dry goods, while stand-up gusseted pouches provide fortification for bulky and irregularly shaped items like snacks, nuts, seeds and candy, which are commonly packaged in retail pouches.
Liquids and gels can also be blended according to client specifications.  Reputable contract packagers rely on weights and measures verifications and batch monitoring to provide consistent blending results for their clients.  Sanitation and regulatory compliance are built-in to the packaging fulfillment process, including on-site lab testing capabilities, and humidity controlled production environments. Condiments and sauces are packed in printed, clear, and foil pouches, as are oils and other liquid ingredients.  Single-dose pouches are effectively utilized for packing individual portions of liquid energy supplements and food additives.
Non-food pouching applications include health and beauty industry products like lotions and gels, as well as chemicals and other pre-measured powdered portions used commercially, and by retail consumers.  Individual pouches can be strung together as bandoliers, linking them in sequence for ease of use and convenience.
Secondary Packaging
Outsourcing primary packaging solutions should be done with partners who are also provide end-of-line secondary packaging services.  Club packs, tray packs, floor displays and PDQ displays are necessary to meet merchandising requirements in most consumer channels.  Make sure your partner has the full breadth of primary and secondary services to handle spikes in production and value added options down the road.

Posted in