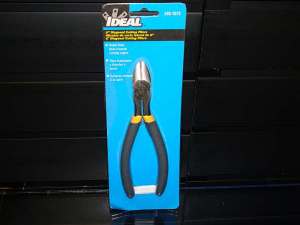 Skin packaging is a relatively inexpensive product encasing method that provides some attractive features for manufacturers, and the retailers who sell their products.  This cost-effective technique is particularly appropriate for small, lightweight items.
Products that are manufactured in high-volume production runs, and sell for only a few dollars each, require packaging budgets that reflect the value of the goods. Clearly, if you are selling something for a couple dollars, you can't spend a great deal of money presenting it to your customers.
Some manufacturers do invest in the technology required to package products in-house, but in many instances the services are outsourced to contract packaging companies.  To get the ball rolling, manufacturers submit relevant artwork to packaging providers, along with the products to be sold.  Contract packagers essentially do the rest, returning the goods in shelf-ready condition.
Skin packaging is achieved through vacuum technology that draws the air out of a Mylar sheet, tightly molding the clear synthetic material around the product.  The process simultaneously bonds the whole works to a sturdy cardboard backing.
Manufacturers choose the size and shape of the card, which is usually best kept as small as possible to minimize production costs.  Contract packagers impose minimum quantities for skin card packaging runs, often numbering in the thousands of units.
Skin Packaging in Practice
Retailers are consistently faced with important considerations about how to effectively market the products they sell.  Showroom space is always at a premium for retailers, so the way an item is packaged can have a significant impact on display strategies and inventory decisions.  Manufacturers and wholesalers need to recognize this as they select their packaging methods.  Prudent retail professionals analyze their profitability in terms of return/sq. ft.  If your item carries low retail profit margin potential, store owners will not dedicate large display footprints for marketing it.

Skin packaging presents the best option for displaying small items, because retail stores can utilize die-cut hang holes to place products at consumer eye level.  Using vertical space to efficiently display a wide variety of items is an essential strategy for retailers who carry high numbers of SKUs.

Reduced shipping expenses are another added benefit of using skin packaging.  Freight costs find their way into every layer of merchandising, because a product may be transported a number of times before a retailer calculates its final "landed" cost.  Lightweight packaging is less expensive to ship, and flat carded items can be packed in higher numbers, requiring less shipping boxes and packing materials.

Manufacturers and wholesalers seeking to maximize sales of high-production, low cost items should consider skin packaging where appropriate. Contract skin packaging provides a merchandising option that is embraced by retailers and consumers, at a price point that makes sense for less-expensive items.

Posted in