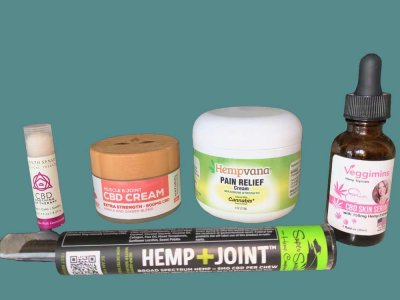 CBD use and awareness continue surging. Fueled by the relaxation of marijuana laws and health and wellness claims promoted by CBD advocates, the substance is popping up in everything from energy tonics to pet treats.
Among the consumer segments experiencing heightened CBD consciousness, the compound is increasingly visible in the health and beauty space. Cosmetics, oils, balms, relief creams, and other topical products are abundant in the industry.
As more and more people embrace the potential benefits of CBD, packagers are called upon for innovative solutions, bringing CBD-enhanced health and beauty products to market.
What is CBD?
Cannabidiol (CBD) is a compound derived from cannabis plants. The substance is present in marijuana but is more commonly drawn from hemp strains, which don't possess psychoactive properties. To utilize the compound, CBD is extracted from the plants and then mixed with hemp seed oil, coconut oil, and other carriers. Cannabidiol is thought to possess health and wellness benefits, so the business is booming for manufacturers incorporating CBD into their products, as well as health and beauty packagers responsible for bringing CBD SKUs to store shelves.
Though its benefits have been endorsed for years, many questions remain about the usefulness of CBD and its potential promoting health and wellness. As CBD science continues evolving, advocates promote potential benefits such as:
Pain Relief
Skin Care Benefits/Acne Treatment
Seizure Relief for Epilepsy Patients
Reduced Inflammation
Neurological Benefits
Stress Relief
Reduced Side-effects From Cancer Treatment
Enhanced Substance Abuse Treatment Success
Need help with your packaging?
Click below to get a quote and discuss your project requirements.
Request For Quote
CBD Catches Fire in Health/Beauty Aisles
CDB is one of many compounds found in hemp and marijuana plants. Until recently, the focus was on another compound called THC, the substance known for getting marijuana users "high." As legalized "weed" continues spreading from state to state, the stigma surrounding the plant has diminished, legitimizing its compounds for mainstream use. Paired with emerging science about CBD benefits, the normalization of hemp products has sparked heightened interest among consumers, including trending CBD use in health and beauty products.
Equally as important to its rapid rise in popularity, a "boutique" effect has taken hold, influencing public perception about CBD products. Not only are the goods packaged for high-end appeal, but CBD products have also generated a media buzz. Top health and wellness publications have highlighted hemp trends, featuring write-ups about the benefits of CBD-infused cosmetics and beauty products. Celebrity endorsements and social media momentum have also contributed to the rising popularity of Cannabidiol in the health and beauty space. As CBD has entered the mainstream in full stride, utilizing related products has become trendy and fashionable.
Skin Serums and Relief Creams
Because the science of CBD benefits remains unsettled, consumer goods produced with added CBD cannot make specific claims about outcomes for users. Instead, makers emphasize general overall health and the natural element of incorporating the plant-based compound.
Within the most widely accepted potential for CBD, advocates point to its anti-inflammatory and pain-killing properties. Because inflammation plays a prominent role in skin conditions, comprehensive skincare emphasizes the benefits of anti-inflammatory skin cream additives. As a result, CBD is finding its way into restorative relief creams, serums, and lotions. Preliminary research indicates the compound may be beneficial in treating dry skin, eczema, and psoriasis, and the additive may suppress acne outbreaks, by regulating oil production.
As anecdotal and scientific evidence about CBD continues expanding, positive outcomes further legitimize its use in relief creams and cosmetics. And the same analgesic benefits touted to treat arthritis and sore muscles make the compound a promising additive for face creams.
Packaging Practices Highlight Versatile CBD Applications
In many cases, contract packagers devise upscale presentations for CBD-infused health and beauty products. The approach brings an exclusive feel to the goods, which may be enhanced by incorporating natural elements, such as wooden lids. Graphic secondary packaging is also utilized in the health/beauty space, communicating wellness claims about Cannabidiol. In addition to jars, packagers frequently use tubes, pumps, bottles, and glass vials with droppers to package CBD cosmetics, lotions, and oils. Innovative packaging solutions for CBD-infused goods include:
Relief Creams – Promoting analgesic and anti-inflammatory benefits, relief creams and salves are frequently packaged in low-profile screw-top jars and tubes of various sizes.
Pain patches – Commonly merchandised in pouches with hang tags, CBD pain patches promote the compound's benefits of relieving pain. Patches are also available as sleep aids and for minimizing the effects of hangovers.
Anti-aging balms – CBD balms come to market in glass and plastic jars, hinting at slowing the effects of aging. Distinctive lids, including wood-look varieties, are used to showcase the natural and organic components of products derived from hemp plants.
Bath bombs – Dissolving bath bombs infused with CBD arrive at stores in individual cardboard boxes or creative see-through netting, suitable for vertical merchandising using hang tags.
Infused lip balm – Sold in familiar tubes, like other lip care products, CBD-infused lip balms offer protection with the added benefits of Cannabidiol.
Lotion – Flip-top plastic bottles and glass versions outfitted with pumps provide popular presentations for moisturizing lotion fortified with the hemp compound.
Roll-ons – Various health and beauty aids utilize roll-on mechanisms, attached to small glass bottles, for applying the compound topically.
Sprays – Non-aerosol spray bottles deliver CBD-infused mist, providing a distinctive vehicle for the trendy health and beauty compound.
Topical Gel – Full-sized tubes incorporate CBD gels for ease of use, and travel-size versions enable users to take their favorite hemp gels on the road.
As regulatory changes and public perception continue propelling cannabis commerce in the mainstream marketplace, contract packaging companies are stepping-up with flexible solutions for CBD-infused cosmetics and other hemp-derived health and beauty products.
If you have questions on CBD packaging or have a retail product in this space in need of custom packaging solutions, please reach out and one of our sales associates can provide a quote.