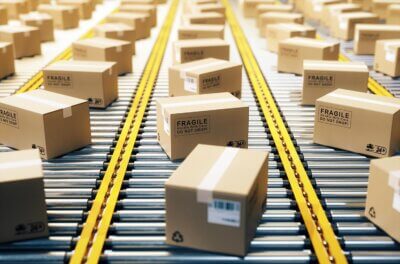 Flexible business models incorporate various approaches, managing the movement of materials and delivery of finished products. Among the opportunities available to modern merchants, third-party logistics (3PL) partnerships enable producers and sellers to outsource elements of their fulfillment and distribution processes to partner organizations skilled in packaging, transportation, and other supply chain specialties.
3PL isn't right for every business, but the beneficial services can help stakeholders reduce the cost of bringing goods to market, among other advantages. If you are weighing the upside of outsourcing or wonder whether you're a good candidate for third-party services, it is important to consider a few key points before establishing a 3PL partnership.
There's More to 3PL Services Than Warehousing and Transportation
In some settings, third-party logistics refers primarily to storage and shipping solutions, but 3PL partners offer diverse services. Establishing 3PL partnerships is not a one-size-fits-all process.
While some partners may outsource one or two elements of their procurement and fulfillment processes, other companies utilize 3PL partnerships offering a wide array of services, addressing various aspects of supply chain management.
Some 3PL providers emphasize a single specialty, while others provide a full range of services addressing procurement needs, order fulfillment, storage, and transportation. Among other services, 3PL partnerships often address these customer requirements:
Inventory Management
Picking
Custom Packaging
Shipping
Returns (reverse logistics)
To simplify distribution, a growing number of sellers choose to partner with 3PL providers capable of managing the entire fulfillment process. In addition to standard e-commerce logistics solutions, comprehensive partners may provide specialized packaging, international freight options, data analytics, business-to-business capabilities, expedited shipping, and other services.
Every case is unique, but sellers commonly follow a similar path to third-party solutions. According to Inc., many brands launch with an in-house warehousing and fulfillment strategy. Once off the ground and after starting to turn a profit, the ventures may turn to 3PL partnerships to scale and reduce the cost of fulfilling orders.
Need help with your packaging?
Click below to get a quote and discuss your project requirements.
Request For Quote
Advantages of Third-party Logistics Partnerships
Progressively expanding its role in the supply chain, third-party logistics frequently cater to e-commerce, enabling sellers to streamline infrastructure and operations without sacrificing fast fulfillment. In addition to simplified logistics, contracting the right 3PL partner offers these benefits:
Reduced Costs
3PL partners can leverage the best rates from freight companies, using the collective needs of multiple customers to establish volume discounts. In addition to reducing the cost of individual projects, outsourcing also reduces logistics infrastructure expenses, freeing funds for other spending priorities.
Less Risk
Recent supply chain slowdowns underscore the logistics risks facing manufacturers and suppliers. 3PL partners can help mitigate risk, drawing from their resources to solve unexpected problems when they arise.
Access to Knowledge and Insight
Outside logistics experts have knowledge and experience you may not have in-house, so it makes sense to lean on seasoned professionals when navigating a complex supply chain. A seasoned logistics partner can help you avoid expensive mistakes. And your 3PL provider's watchful eye on inventory and distribution management allows you to focus on other aspects of your business.
Better Customer Experience
Fast shipping is no longer a competitive advantage; customers expect quick turnarounds. Amazon and others have changed the paradigm for sellers, creating shipping expectations that may be hard to meet in-house. 3PL partners are equipped for fast fulfillment, using established, efficient distribution networks to ensure timely deliveries.
International Capabilities
Experienced 3PL partners enable sellers to hit the ground running, fulfilling international orders. Experienced with duties, customs, and paperwork, established third-party logistics partners to facilitate expansion without investing in local infrastructure and staff.
Flexible Scalability
Top 3PL partners are prepared to scale output based on customers' needs. The right partner can help ease seasonal transitions, expand fulfillment volume, and reduce labor costs, compared to in-house distribution efforts.
Things to Consider Before Contracting Third-party Logistics Services
The U.S. Chamber of Commerce advises not evaluating 3PL alternatives based solely on cost. According to a recent article shared by the agency, trust is an essential feature of successful 3PL relationships. In addition, The Chamber recommends considering the following features when vetting 3PL providers.
Reputation
A positive reputation enables a 3PL partner to leverage a network of vendors to your advantage. A partner's past productivity and established relationships can help you devise efficient solutions for your projects, opening doors you may not have knocked on without your partner's help.
Customization Capabilities
Is your 3PL partner capable of catering to your custom logistics requirements? Broad-line providers may excel in certain specialties, so it is important to vet prospective partners with your needs in mind. For the best outcomes, evaluate 3PL partner processes and look for partners familiar with the marketplaces you use most.
Scalability
Successful partnerships allow your business to grow without straining 3PL resources. Before signing a service contract, evaluate your expected evolution and match with a provider positioned for growth.
Compatible Technology
Technology can help create competitive advantages within the supply chain. In addition to well-run facilities, the best 3PL partners are equipped with enterprise technology that enhances efficiency and productivity.
Customer Service
Whether responding to supply chain issues or devising distribution strategies, the most effective 3PL partners provide seamless customer service. By collaborating closely with clients at every stage of planning and execution, service-oriented 3PL providers reduce the likelihood of surprises along the way.
Evaluating these essentials is a good start, and you must also consider specific requirements unique to your business. For the best third-party logistics outcomes, choose established, experienced, financially sound providers offering the value and expertise your projects demand.