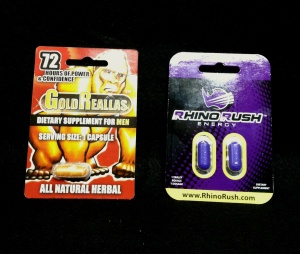 Experts say packaging can make or break sales for almost any consumer product and this is especially true in the dietary supplement industry. Selecting the right artwork and right packaging method for pills and capsules are critical steps in making your product stand out on the retail shelf or on a hook in a planogram. Differentiating yourself thru eye catching graphics is an absolute necessity in such a competitive category, along with making sure the pills or capsules are secured, sealed and in a tamper resistant housing.
Face Blister vs. Trap Blister w/ Foil Barrier Supplement Packs
There are several different ways to package pill or capsule supplements, but the most effective method and most shelf stable is a trap card blister with the supplements first pre-packaged into a separate "foil" blister. The trap blister option using a foil barrier differs from the traditional face blister pack because the foil blister pack is actually sealed in between 2 cards thereby hiding the flange of the blister which offers a clean look to the consumer. Compare this with a face blister where the blister cavity is adhered directly to a blister card. Not only is the flange and seal area visible but the pill or capsules come in direct contact with the blister card which does not have appropriate barrier properties to keep them fresh. The trap blister with a foil barrier in general is not only more appealing aesthetically but can also help promote consumer confidence in a product. The reason for this is the "pharmaceutical" feel that the product has with the foil barrier protecting the pill. Consumers want to know that the product they are ingesting was handled with the appropriate attention to sterility and when they can see this reflected in the packaging the product comes across as more professional. The foil surface used to secure pills or capsules can also provide a space to print a date and lot code in accordance with FDA standards. A foil barrier liner protects the product from moisture, air and dirt and ultimately gives the supplement a longer shelf life which translates into lower waste and lower manufacturing costs overall.
Put Stock In a Good Graphic Designer
Aside from having prominent colors and good graphics, adding a UV varnish to the blister card is a great choice as the high gloss gives a high perceived product value. This is an inexpensive way to make your product "pop" off the shelf while building brand awareness and ultimately generating more sales for your supplements.
PDQ Trays or Counter Displays to Help Sell Your Products
Once the primary packaging and sub assembly of the foil blister packs are completed, designing a display vessel for your products is the next crucial factor. Whether you are using a pouch, a face blister or foil blister pack, a PDQ tray can help maximize billboard space to tell your story and minimize counter space with the proper footprint and display style. Shelf and counter space always comes at a premium so finding a design that has a good balance of both is always the best option. Once this tray is designed you should consider a die cut insert that can be placed at the bottom of the counter display which is used to support or hold your product vertically and neatly. This is another way to merchandise your product in an organized fashion that helps convey to the customer that your brand has value.

Posted in