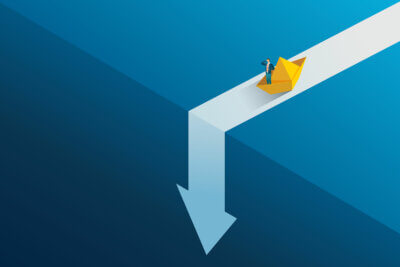 Numerous factors influence global economic health, creating hard-to-predict conditions across diverse industries. Although economic macro trends often look similar from one industry to the next, unique patterns also emerge in specific parts of the economy, impacting some stakeholders more than others.
A modern recession, for example, may not manifest uniformly across the entire economy, instead sparing some sectors, even as other segments are hit hard. As post-covid commerce continues evolving, manufacturing and trade businesses, including packaging companies, are locked in a recession that isn't apparent in other areas of the global economy.
Recent Report Points to Packaging Industry Recession
Although the packaging industry is historically resilient, a recent report issued by the chief global investment strategist at Charles Schwab & Co. suggests the packaging industry is in recession. In addition to conducting surveys of purchasing managers, the study looked at industrial production, trade volume, and job growth across various industries. In particular, the report analyzed data tracking cardboard demand, illustrating a notable downturn in demand for cardboard in 2023.
Demand for cardboard boxes serves as an excellent economic indicator, tracking consumer spending. While demand for boxes peaked at historically high levels during the pandemic, the downside has been steep, resulting in rapidly declining demand for boxes and cardboard shipping materials.
The Fibre Box Association offers data showing that the current decline in demand for corrugated liner board mirrors drops experienced during past recessions, further supporting evidence the US packaging industry has fallen into a "cardboard box recession." Contrary to hopeful analysis projecting increased demand for boxes in early 2023, the actual annual outlook may not include rising demand before the year's end.
The American Forest and Paper Association reported soft first-quarter demand for boxboard, resulting in production 5% lower than the same period in 2022. According to the AF&PA, the first-quarter boxboard operating rate was also down compared to last year, slipping more than 6%. Similar conditions are visible across the industry, with paper and packaging producers logging substantial production downtime in 2023. Packaging Corp., North America's third largest containerboard producer confirmed shipments were down 13%, ranking early 2023 performance alongside declines experienced during the depths of the Great Financial Crisis of 2009.
Need help with your packaging?
Click below to get a quote and discuss your project requirements.
Request For Quote
Contract Packagers Support Clients Navigating Packaging Industry Recession
Recessionary conditions pose challenges for producers, reinforcing the value of trusted packaging partnerships. When economic conditions trend in the wrong direction, contract packaging companies offer strategies and resources that reduce the impact of industry downturns. Responding to recession, the most effective packaging companies take measures to keep costs down, while still delivering at a high level. Working with an experienced, adaptable packaging company offers widespread benefits.
Added Value
Skilled contract packagers bring diverse industry expertise, adding value to any packaging project — particularly when economic conditions are less than ideal. Professional packaging contractors' design and merchandising knowledge and experience help clients identify the best custom packing solutions, adding value when stock boxes are not the best choice. Packagers' familiarity with cutting-edge printing and shipping practices creates a competitive advantage for companies partnered with turnkey packaging providers. And when conditions change, effective packagers adjust in real time, switching materials or tweaking logistics for savings and efficiency.
Seamless Project Management
Packaging errors and inconsistencies undermine the flow of goods, resulting in slow turnaround and cost overruns. Start-to-finish project management reduces the chance problems will arise, providing oversight at each stage of production and distribution. Beginning with a client's vision and design ideas, carrying all the way through product placement on store shelves, well-established packagers protect producers' interests, reducing the impact of packaging industry recession.
Adaptability
Market conditions regularly fluctuate, including the onset of recessionary trends that strain manufacturers and packagers. Agile contract packaging partners understand adaptability is essential. Their experience facing economic adversity equips packaging contractors to pivot as conditions evolve, reducing the impact of recession and other industry challenges. Changing timelines, materials, processes, or other approaches may be all it takes to alleviate inconsistencies and ease the downside of packaging industry recession.
Established Supply Chain Relationships
Turnkey packagers operate across multiple supply chain disciplines, relying on a wide network of partners to move and market goods. Leveraging established relationships enables well-connected packaging experts to weather the storm, when recession sets in. Whether packaging contractors are sourcing raw materials or managing logistics, maintaining established relationships with proven partners facilitates preferred access for manufacturers and food producers.
Operational Efficiency
Profitability generally increases with efficiency, so the most effective packaging companies maximize production and devise efficient logistics solutions. Maintaining multiple regional processing and packaging facilities, for example, cuts distribution costs and supports swift product turnover without excessive warehousing. Turnkey contractors offer one-stop fulfillment, allowing producers to focus on manufacturing, while their packaging partners fill, blend, pack, label, and manage efficient distribution.
Cost-of-living Crisis Driving Packaging Trends Amid Industry Recession
In the wake of the global pandemic, which shifted shopping trends to online orders and remote fulfillment, consumers now face high prices due to shortages and inflation. As shoppers return to stores following the COVID crisis, their spending power has eroded, influencing their retail behavior. Packaging industry conditions directly reflect the economic uncertainty consumers are experiencing, resulting in a recession among packaging companies and associated businesses.
Packaging companies are united with manufacturers and food producers in efforts to overcome inflation and ease recessionary pressure. In order to court cash-strapped consumers, brands, and packagers are focused on value propositions and pursuing products and packaging that align with current consumer purchasing power. By leveraging established supplier relationships and proven logistics solutions, turnkey packaging companies minimize the impacts of industrywide recession, without sacrificing quality.