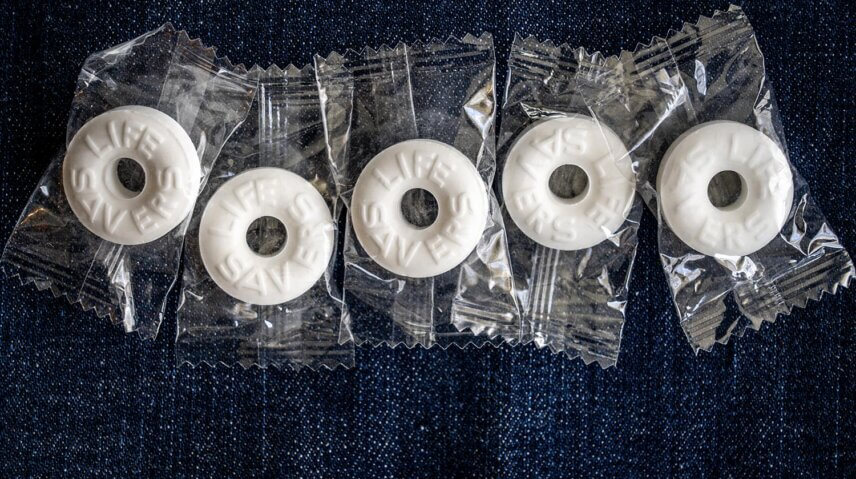 Packagers use various techniques and materials to create durable and attractive covers for retail products. The transparent, crinkly plastic outer layer that covers many everyday items results from 'over-wrapping' or cello wrapping.
The typical application is perhaps most widely recognized as the outer wrap on candy. Still, the process is actually used for packaging a wide variety of consumer goods, promotional items, and coupons.
The polypropylene material (referred to as "OPP," or oriented Polyproylene) is often apparent. Still, it is also common as a white opaque film which is then custom printed, or a Metalized "silver" film which is also printed but presents a nicer overall look.
Finished products that have been cello wrapped are extremely glossy in appearance, creating a higher perceived value for low-priced items like chewing gum and candy. Printed cello wrap, in particular, provides a merchandising canvas limited only by the item's size.
Cello Wrapping is Cost Effective
Cello wrapping is a cost-effective choice for inexpensive items being packaged in large quantities. The tidy appearance of cello wrap is augmented by a tamper-resistant component that helps prevent pilfering. In addition, Cello wrap is manufactured in various thicknesses, which brings even greater flexibility to its uses.
Budget applications might use a thin layer of polypro (80 ga. Is standard), while products that rely on the packaging for protection can be encased in a heavier gauge film, like 100ga or even 120. In addition, OPP films provide a barrier for odor and moisture when required, and FDA-certified films when used in direct contact with food.
Medium to small items are best packed using this method. For flat products like coupons or tear pads, hang holes are incorporated into the top seal area of the package to allow them to be merchandised on pegs, counter displays, or planograms.
High-end retail boxes, such as cosmetic products and perfumes, use cello "tuck" wrapping. The tuck ends give a high-end look like it is hand wrapped and, when used on an expensive folding carton, "screams" quality.
Manufacturers and wholesalers contract with packaging companies to fulfill their cello wrapping needs. Pricing is based on volume, materials used, and the specified artwork provided. So the size, film gauge, painting, and volume all play a role in the final cost of this packaging solution.
Need help with your packaging?
Click below to get a quote and discuss your project requirements.
Request For Quote
Custom Packaging Solutions
Custom sizes and distinct closure methods are available, including heat sealing and folded ends that resemble gift wrap. When standard sizes are utilized, packagers' ability to provide quick turn-around is enhanced.
Contract packagers often require minimum run sizes, typically 50,000 units, as cello wrapping is a high-speed automated process. The setup requires a steady run to be cost-effective for the provider. 1MM units is a typical run for an overwrapping or cello wrapping project.
Mass mailing companies utilize cello packages as merchandising tools by packing cello-wrapped samples into newspapers and other circulars. Baseball card-style packages with clear cello wrap are also used to distribute information and coupons. Individual pieces can be handed out, or distribution can be increased by sticking them inside magazines and papers.
Products commonly packed using cello wrapping come from a wide assortment of retail categories, including:
Health and Beauty – Small items made to be hung lend themselves to cello wrapping, so disposable razors, refills, and cough drops are each prime candidates.
Candy – Chewing gum sold in multi-packs is efficiently bundled using graphically printed cello wrap. The items are easy to ship between stores, and the colorful advertising artwork on the package is ideal for glossy cello wrap.
Snacks – Like candy, this category is dominated by cello wrapping, used for retail products like nuts, pretzels, and other snacks.
Gifts – Cello wrapping is reminiscent of the film used to secure the contents of a gift basket, so it is also widely used in other gift applications.
Promotions/mailers – coupons and giveaways are cello-wrapped for mailing or inserting into a cereal box.
Dog/Pet treats – Dog bones and treats for animals are common for overwrapping. In addition, odor and moisture barrier films are available for these applications.
If you have questions on cello wrapping or have a product in this space needing custom packaging solutions, please reach out, and one of our sales associates can provide a quote.