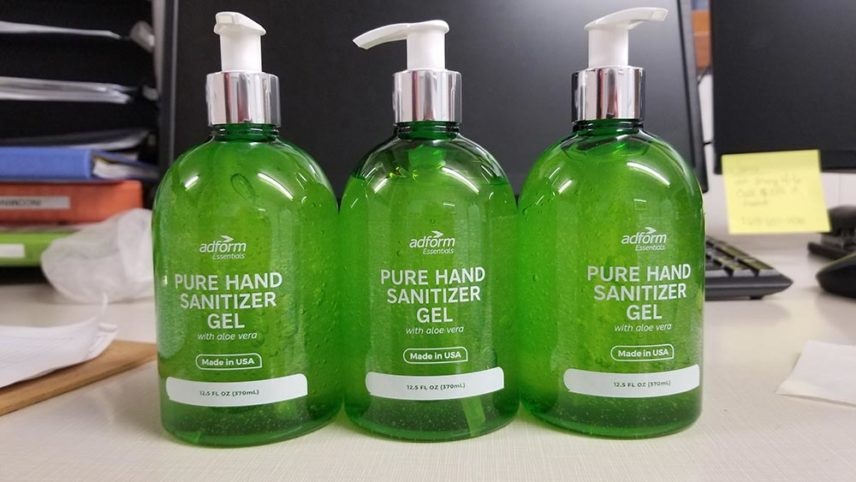 The hand sanitizer industry puts forth gels, liquid, sprays, foam, and single-use wipes formulated to kill germs on contact. The products are utilized in conjunction with or to replace handwashing with water. Manufacturers also produce dispensers and refills for use in commercial and industrial settings. Increased health consciousness among consumers and a general uptick in health-related spending have propelled recent growth in the industry. The Coronavirus pandemic has blown the lid off hand sanitizer demand, prompting industry changes on the fly.
Growth Trends Prior to Coronavirus Pandemic
The hand sanitizer manufacturing industry represents a $74 million segment of the economy. During the five years to 2020, the industry experienced annualized growth amounting to just under 4-percent. In addition to heightened consumer awareness surrounding good health practices, it is thought increased marketing attention from operators has also contributed to the strong performance seen in the hand sanitizer industry. In particular, suppliers that have been able to leverage distribution relationships have experienced robust growth in the competitive hand sanitizer market.
Need help with your packaging?
Click below to get a quote and discuss your project requirements.
Request For Quote
Increased Demand Due to COVID-19
After displaying steady annual growth of 3.9-percent, hand sanitizer sales have jumped substantially amid the Coronavirus pandemic. Supply issues prevail, so the figure doesn't represent true demand. Gel-based hand sanitizers alone saw a 73% sales uptick in March, illustrating the upward trajectory inspired by health safety concerns amid the COVID-19 crisis.
Overall, the US hand sanitizer market is expected to show a 20% growth for the period 2019-2025, according to a recent market report. The world's largest market for hand hygiene products, sales in the United States have been fueled, in part, by a series of epidemics occurring since 2000.  The rise in consciousness and popularity of hand disinfection solutions has arisen partially due to the SARS outbreak of 2004, as well as the spread of the H5N1 Avian Flu in 2005 and the Swine Flu epidemic occurring in 2009.
Consumer concern about contagions has promoted sales increases, but the rise in popularity of antibacterial hand sanitizers is also propelled by scientific confirmation, illustrating the effectiveness of hand hygiene products. According to research, the spread of gastrointestinal illness can be curbed by 50% with regular use of hand disinfectants.
Coronavirus concerns have prompted explosive growth in the sale of hand disinfectant products. In addition to heightened awareness and purchases attributed to individual consumers, institutional sales have also reached peak levels, as healthcare and other facilities address the COVID-19 crisis with enhanced sanitization efforts. Commercial and industrial applications have also expanded, fueling further growth in the industry.
As demand outpaces supply in the current environment, various businesses are retooling outside their specialties, in order to produce hand disinfectants. Distilleries, including major world alcohol producers, are contributing hand disinfectants to meet medical demands. And a noted plastics company has also shifted production to hand sanitization. In addition to pumps for dispensing liquid and gel products, contract packaging partners are also filling increased numbers of small, "pocket bottles" for personal protection from infectious disease. Fragrance companies are also assisting with sanitizer packaging efforts.
Industry Growth Forecast
It is thought robust sales trends will continue for at least 2 years, beforehand sanitizer markets stabilize, following the global pandemic. According to the market report, which considered supply and demand conditions, the present state of the hand sanitizer market, and other restraints and potential enablers; a few key factors are likely to contribute to a period of growth spanning 2019-2025.
A growing number of infections
Increased health consciousness among consumers
New demand for organic and flavored sanitizers
Showing a strong uptick in use during the March response to Coronavirus, gel sanitizers aimed primarily at healthcare settings are expected to continue selling well after the COVID-19 crisis. While healthcare environments are substantial end-users for gel products, manufacturing settings account for a large share of liquid disinfectant use. As infection concerns grow in manufacturing, strong liquid hand sanitizer sales are expected.
The institutional segment of the disinfectant market, encompassing schools, colleges, and commercial industries such as hospitality, favor foams – deemed effective with concentrations of at least 70% ethyl alcohol content. According to analysts, spray sanitizers, frequently utilized in gyms and health clubs, will also see growth propelled by niche users.
The hand sanitizer market, valued at $1.2 billion in 2019, is predicted to become a $2.1 billion industry by 2027.
Retail Opportunities
Healthcare end-users are responsible for explosive growth during the Coronavirus pandemic and will likely continue driving industry expansion for years to come. Retail opportunities are also expected to grow during the upcoming five-year period, calling on contract packagers and industry vendors to meet the demand for hygiene hand rubs. Bottles, pumps, wipes, and sprays each present unique opportunities for producers and their packaging partners, marketing directly to individual consumers influenced by the increased call for hand hygiene.
By one estimate, the UK saw hand sanitizer sales spike 255% in February, responding to the COVID-19 pandemic. Rationing policies and price hikes have emerged at retail locations, and there is evidence Asian buyers are stockpiling personal hygiene products in the wake of the pandemic.
In Italy and parts of the US, sales were up more than 1000%, compared to same-period sales last year. Online venues are commonly sold-out of hand hygiene products and price increases have been widely reported among online vendors. While these conditions directly reflect the use of disinfectants during the unfolding crisis, retail opportunities for alcohol-based hand sanitizers and non-alcohol versions are not expected to wane for years.
Packaging During Critical Demand
More than 1500 companies have recently registered with the FDA to produce hand sanitizer. The unprecedented demand has an impact on packagers' ability to keep up with retail needs. Fulfillment capacity is stretched, but a bigger problem lies with availability of materials needed to package and distribute related products. Plastics companies have expanded operations, producing flip-top closures and PET bottles. Competition for limited enclosures is not contained within the hand sanitizer industry – food producers are also ramping-up output, requiring similar plastics to bring edible goods to market.
Lotion pumps and sanitizer caps are also in high demand; specialized producers are responding with higher output and innovative redesigns, utilizing caps and containers originally intended for beverages, cosmetics, and household cleaners. One automotive fluids company, pitching in with sanitizer production, has resorted to packaging hygiene products in bottles traditionally associated with motor oil distribution.
Hand sanitizer demand is expected to remain strong, well beyond the current COVID crisis. Producers and packagers continue adapting to shortages and remain committed to healthcare priorities, battling the spread of the infection. As conditions normalize, new retail opportunities are sure to shape the enduring market for hand hygiene products.
Assemblies Unlimited has turn-key capabilities to manage your hand sanitizer packaging project through completion.