From the early days of the pandemic, widespread testing for COVID-19 has been central to global efforts aimed at slowing the disease's spread. Robust testing not only contributes to effective contact tracing but also empowers individuals and institutions to make informed distancing and self-isolation decisions.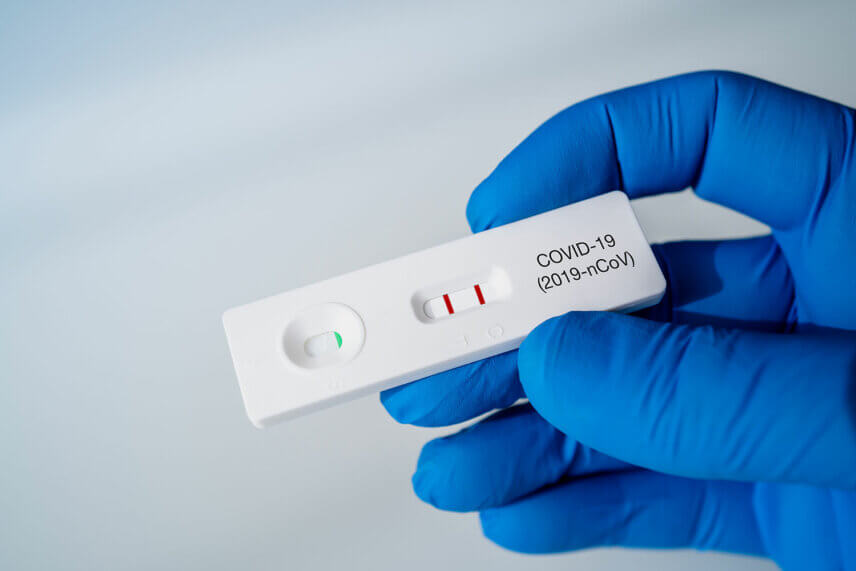 Among the testing options now available in the fight against COVID-19, polymerase chain reaction (PCR) tests were approved for widespread use in February 2020 and continue as the gold standard for testing accuracy and reliability. PCR test kits are now available for home use, enabling users to collect samples before returning them by mail for lab analysis.
Coronavirus Testing Methods Include Rapid Antigen Tests and PCR Test Kits
Multiple COVID-19 testing protocols are in use, each type relying on specific science to generate results. An important distinction exists between popular rapid antigen testing and PCR test kits, which are considered molecular tests.
Rapid antigen tests are useful in identifying active and symptomatic infections that may spread disease. The tests pick up on proteins found on the surface of the COVID-causing virus, yielding a positive result when the protein is present. Using a different mechanism to expose infected patients, molecular test types such as PCR test kits actually detect the presence of genetic material associated with the virus responsible for causing COVID. In practice, PCR tests amplify existing genetic material that may be found in a sample, making the testing method highly accurate, even when the test subject is asymptomatic.
Need help with your packaging?
Click below to get a quote and discuss your project requirements.
Request For Quote
At-home Testing Slows Community Spread
Time is of the essence for individuals suspecting they may have been exposed to the virus causing COVID-19. Without timely test results, community spread unknowingly occurs when asymptomatic patients fail to isolate or follow distancing mandates.
To eliminate lag times, rapid at-home tests are available, offering quick results without traveling to testing centers for in-person assessments. The Biden administration has launched an initiative providing a number of free at-home tests for anyone completing a delivery request from the US Postal Service.
Despite the importance of testing, no single test is thought to provide absolutely definitive results for the presence of coronavirus. Rapid antigen test results, for example, are best interpreted alongside community COVID-19 data. In areas where coronavirus is not widespread, false positives are more likely to occur than in regions beset with high numbers of COVID cases.
In contrast, tests conducted in locales suffering high caseloads and transmission rates may generate rapid-test false negatives that don't reflect conditions in the region. When such inconsistencies arise, patients are advised to confirm rapid antigen test results with PCR test kits, which are known to be more accurate than other forms of testing.
Are PCR Test Kits Available for Home Use?
Because PCR tests evaluate samples at the molecular level, the testing method produces results that are more accurate than rapid antigen tests commonly used at home. Unfortunately for self-test consumers, PCR test kits do not offer the same accessibility and timely results built-in to rapid antigen home testing alternatives.
PCR test kits are available for home use, but the samples collected often require analysis at a lab in order to generate results. Though samples are collected with nasal swabs just like antigen tests, the swabs must be sent out by mail, resulting in days-long lags before test results are returned. For decisions about keeping kids in school, returning to the workplace, and interacting socially, lengthy turnaround times undercut the value of PCR testing.
In addition to at-home PCR tests requiring lab analysis, rapid PCR test kits have also been developed for home use. Emerging as another line of defense against coronavirus spread, the testing alternative offers some of the advantages of antigen tests. However, rapid PCR testing falls short in an important area; the cost of rapid home PCR test kits remains higher than other testing methods.
One of the primary advantages of at-home COVID-19 testing is the ability to test regularly, generating immediate results that guide users down the safest path. Repeating the tests reinforces their effectiveness in limiting the spread of coronavirus so pricey home PCR test kits do not always answer the call for quick, cheap, accessible at-home testing. In order to reduce waiting times for PCR test results, Meijer pharmacies now offer home PCR test kits, which are picked up and returned to the same pharmacy location for results within 48-72 hours.
Packaging COVID Test Kits
PCR test kits are assembled from components that include vials, swabs, slide-lock bags, boxes, and labels for samples and fulfillment services. Thermoformed features may also be boxed with PCR test kits, incorporating custom protection and user-friendly designs. Each test kit shipper is designed not only to safely transport PCR testing contents but also to instruct users and facilitate accurate test results.
With various testing methods offering complementary advantages, public and private stakeholders are investing heavily in the fight against coronavirus spread. Contract packaging companies and logistics professionals are key partners bringing PCR test kits and other testing solutions to pharmacies, health agencies, municipal testing facilities, and home users.
Please reach out to our sales team by submitting a request for quote or contacting us directly to help with your packaging needs.