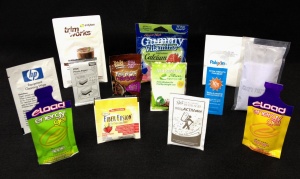 Flexible packaging (stand up pouches, sachets, gusset pouches, etc) is an excellent alternative to rigid packaging (PET or HDPE plastic bottles, glass bottles, composite canisters, jars, etc). It can be used for powder, liquid, and solid products and can be designed with different properties such as thickness (gauge), foil barrier, adhesive layer, sealant layer and lamination, all which contribute to the preservation, presentation and quality of consumer product you are packaging. Flexible packaging films can be used for many applications from food grade to chemical grade and have evolved into a popular packaging choice for most CPG companies.
Barrier Properties
One of the most important benefits of flexible packaging is the ability to custom order it with barrier properties. Barrier properties make the film versatile and useful for a variety of products that are hydroscopic and/or oxygen sensitive. Using a laminated structure where the ink is trapped between 2 layers of film creates a substrate with a very low OTR (Oxygen transfer rate) which adds to product shelf life and shelf stability. Many different sealant additives and coatings can be added to film for improved performance. This is most commonly seen in the following film types: polyethylene (PE), polypropylene (PP), metalized polyester (Met Pet), oriented polypropylene (OPP), polyester (PET), nylon (Ny), and paper/poly/foil/poly (PPFP). Adding a custom barrier to any of these films helps to keep out any elements that can harmful to a product such as air, moisture, dirt, micros and odors. The barrier will also help products that need to maintain flavor and help to increase shelf life. A barrier film can be tailor-made to hold whatever product is being packaged and is proven to adequately protect it.
Need help with your packaging?
Click below to get a quote and discuss your project requirements.
Request For Quote
Re-closeability
Another advantage of using flexible packaging is that it can be resealable. A zipper can be added to any pouch or a bag allowing a consumer to have access to a product multiple times while still maintaining the products freshness. This makes flexible packaging ideal for products that are used "on the go" or products that are marketed as being portable or portion packs. Because they are not rigid or bulky, a consumer can carry a flexible film item with them in their pocket or purse.
Great Graphics
Artwork can be printed on almost any flexible packaging. Eye catching graphics on a flexible package utilizes the billboard space to help promote and identify a product. A clear window in the film can also be incorporated to display the contents of a package as customers often like to get a sense of the size and texture of a consumer item they are buying. While there is an upfront cost for print plates it is important to know these are one-time charges and a high number of colors representing your product are well worth it. It's not only packaging that sells but graphics. For lower run quantities or lower price point items consider using a clear film and apply an outside label on the front and the back. This tactic may lower perceived value on the shelf but for high SKU programs this is an extremely cost effective way to overcome large tooling expense on plates.

Posted in