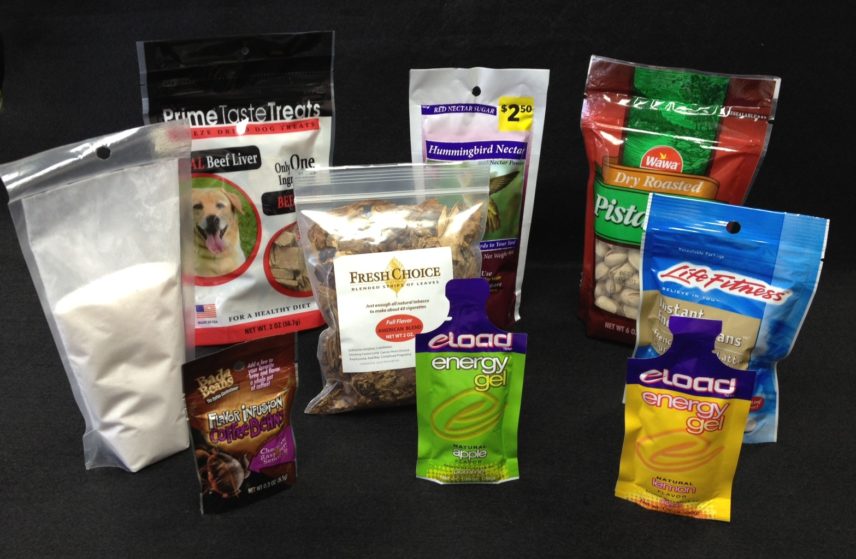 Given the development of new packaging materials, manufacturers and distributors are presented with a seemingly endless variety of primary packaging choices: boxes, cartons, displays, bottles, composite cans, and flexible packaging, to name a few. Of all the options available, one stands out and is uniformly effective in protecting contents and convenient to the consumer, which is stand-up pouches!
Benefits of Stand-up Pouches
Stand-up pouches, also known as flexible packaging, offer both the manufacturer and the consumer advantages over conventional packaging choices. On the manufacturing side, the flexible film can come on rolls in web form for full automation or pre-made for use in lower volume, semi-automated applications.
Physically speaking, the benefits of the high gloss finish, the space savings when shipping, and the zip-lock, recloseable feature are all reasons to gravitate to a stand-up pouch for packaging your liquid or dry ingredients. From the filling end, the ease of changeover, the speed of automation, and the film structures that increase product life are major advantages over boxes or printed poly bags.
Flexible pouches protect contents from moisture, vapor, odor, pests, air, and light. The barrier properties, including foil and nylon, keep contaminants out while sealing in such things as freshness, flavor, and nutritional qualities. In addition, stand-up pouches are very convenient to use.
These pouches, which have a bottom gusset, save shelf space for consumers by storing them conveniently in the garage, closet, kitchen cupboard, or refrigerator/freezer. Optional tear notches make the bags very easy to open. Zip lock closures (for dry products) and pour spouts, and re-sealable caps (for liquids) are available and are great features for replaceability or for use on larger bags where smaller portions are used.
Need help with your packaging?
Click below to get a quote and discuss your project requirements.
Request For Quote
Mylar and Foil Pouches & Bags
Moisture barrier bags, also known as foil bags or Mylar, are one of the most effective and widely used protective bags on the market. These two bags protect against moisture, oxygen, dust mites, dirt, pests, and ultraviolet rays. Most people are very familiar with Mylar if you have bought a shiny balloon any time in the past. This type of barrier bag protects against corrosive damage caused by humidity, moisture, salt spray, aromas, and many other airborne contaminants. Mylar bags can also be used as a cover or wrap for your product. These bags come in a variety of sizes and colors and can be custom printed with your company logo or information.
Tyvek Pouches & Bags
Mylar and foil bags are a great way to protect your product, but in a harsh shipping environment, they will not work if torn or ripped. Once ripped or exposed, the protective barriers will no longer be useful. That is when you would look for a heavy-duty Tyvek bag. Tyvek is a material developed by Dupont and is made of high-density polyethylene, which to the touch, feels like a combination of paper and fabric. Tyvek is a multi-faceted material that is vapor permeable but water, chemical, puncture, and tear-resistant, which proves it to be an outstanding protective bag.
Details and Styles of Stand-up Pouches
Regardless of the product, marketing your pouching product effectively is critical to its success. Stand-up pouches stand vertically and neatly on a retail shelf which allows your brand's products to stand apart from the competition. Wide front and back pouch panels are ideal for eye-popping graphics to promote your brand.
Custom printing with glossy PET with photo-quality graphics stands out and grabs the consumer's attention. The type of printing on the PET outer layer is called "Rotogravure," and this is the highest quality printing available. The custom printing on stand-up pouches is trapped, meaning the printing is actually sandwiched between the PET layer and the adhesive layer, ensuring that no ink comes in contact with any food-grade products or ingredients on the inside. In addition, it protects the surface from being scratched, marred, or rubbed off. The inner layer can be white or clear if you want to view the product inside the stand-up pouch.
There are a few styles of Stand up pouches:
Round Bottom Gusset — In this style, the edge of the gusset is welded to the sides of the supporting walls, giving the package the extra strength and support it needs to stand up.
K-Seal Gusset — With this style, seals on both sides rise at 30-degree angles from the bag. This takes stress off the seals on either side of the package and allows for additional volume.
Pillow Bottom Gusset — With this stand-up pouch, the product housed in the package sits directly on the shelf. It is ideal for products weighing 5 pounds on up. This is not a good solution as many manufacturers cannot make this style.
Ziplok Bags — In this style, the pouch can be stand-up, gusseted, or sachet style but with a recloseable "zipper" feature for protection from dirt, air, and moisture.
Bags with a Tear notch — Here, there are 'V' grooves on either side of the bag for easy opening.
Flat bottom bag – Usually referred to as "gusseted" bags and are used to hold more volume as you can fit more product into them.
Stand-up pouches are an environmentally responsible packaging alternative. Made with less material, they generate less waste, and most are recyclable.

Not to mention stand-up pouches are FDA approved for food-grade products, dry or liquid. Additionally, all the above styles can be heat-sealed to fully secure and lock in your product so the elements will not be affected. In addition, these bags can be customized and made to order in any configuration, size, color, and quantity.

Stand-up pouches used with flexible packaging can easily be the solution to most packaging challenges.

Please contact us by submitting a request for quote or contacting us directly to help with your flexible pouch packaging needs.

Posted in