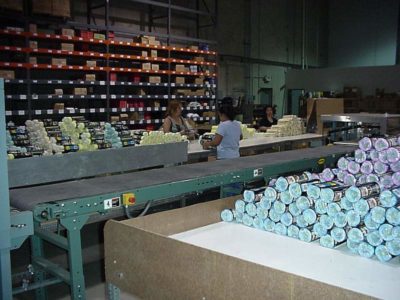 If your company fills orders, you may want to get a quote from a pick-and-pack fulfillment company. Pick-and-pack fulfillment companies do just that — they carry your product inventory so that they can pick and pack orders as they come in and ship them to your customers.
There are several ways that a fulfillment company can save you money including:
Not having to employ in-house staff to fulfill orders
Not having to expand your office, shipping, and warehouse space
Allowing you to grow your company's product line without taking on the major expense of doing all of the work in-house
Before you hire a pick & pack fulfillment house, ask prospective companies the following three questions.
Question #1: Can I Get A Quote On Your Warehouse And Distribution Services?
You'll need to provide them with your volume and turnover of products to get a customized quote. Be prepared to provide the following information before they can give you a quote:
Assembly instructions for your product(s)
Average number of SKUs picked and packed per order
How many of each SKU, on average is picked and packed per order
How are the orders to be packed (shipper carton, envelope)
How many orders are expected per day/week/month
Number of SKU's total
Question #2: What Shipping Services Do You Use, And What Types Of Shipments?
Most pick-and-pack fulfillment companies can work with any shipping carrier. You'll want to know if the company uses its own shipping accounts or yours. Since fulfillment companies deal with large volumes of orders, their shipping costs can be dramatically less than yours. You should ensure that the company offers private label shipping if that's important to you and have that cost included in the company's quote.
Question #3: How Do You Manage Inventory?
Most large fulfillment houses have state-of-the-art inventory control software. The important things to ask are how often they provide inventory reports to you so that you can replenish products and what the turnaround time is once they have received the product and can fill orders. Any handling time on the fulfillment company's end could affect how your customer's orders are filled.
It's also important to know how large their warehouse is for keeping your product inventory on hand. If you have to make weekly deliveries to their facilities to replenish inventory, your savings may dwindle. Ask how much inventory they can keep on hand and compare that to your average sales to ensure the facility is a good match for your business.