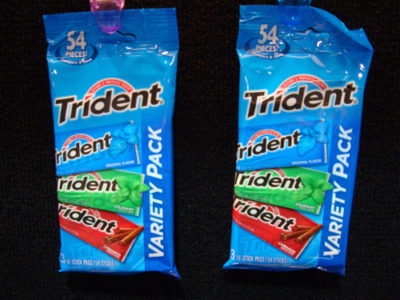 Packagers employ a cellophane wrapping technique that encases retail goods in a protective film to create durable and attractive coverings for retail products. Fin-seal overwrapping, flow wrapping, and horizontal pouch packaging represent cello-wrapping strategies familiar to shoppers for their use on a wide range of consumer and other retail products.
Fin-seal packaging gets its name from the distinctive flap that runs along the bottom of the finished product. The flap lies flat on the package until someone starts to open it, then the fin stands up just like a shark's dorsal fin. Convenience store shelves overflow with popular items that are packaged using this technology.
Candy bars, baseball cards, magazines, snacks, and other dry foods are each packaged using the fin-seal or flow-wrapping method.
How is Flow Wrapping Achieved?
The process uses an oriented polypropylene film, commonly referred to as cellophane. Items are packaged in high-speed runs that can exceed 200 pieces per minute. To maximize output, contract packaging companies use state-of-the-art horizontal pouch packaging machines capable of fulfilling each stage of the overwrapping process.
Machines use conveyors to keep pace with product feeding, which can be done manually, automatically, or through a semi-automatic approach. Individual items are first wrapped in polypropylene film, and then a fin-seal is created to run along the length of each package. The packaging material is of a tubular orientation, so once each item is secured within the cellophane tube, it must be cut to length before an end-seal is created.
The resulting package leaves each item loosely encased in its tamper-resistant enclosure. Where appropriate, hang holes can be added to fin-seal pouches to increase retail display flexibility.
Other distinct advantages of fin-seal overwrapping include the following:
Affordability
Flow-wrapping is cost-effective because the process employs high-speed technology designed for high-quantity output. In addition, contract packaging companies use total volume as a pricing index, so large overwrapping runs create volume discounts for customers with lots of pieces to wrap.
Flexible Presentation
Pouch material can be transparent, opaque, custom printed, or left unadorned. In addition to implementing cello-wrapping, fin-sealing is appropriate for use with some styles of foil packaging materials.
Custom Options
Additional barriers can be incorporated into fin-seal packages-to address moisture and vapor control requirements associated with particular products. Hang holes can be added to accommodate horizontal merchandising.
Multiple Thicknesses
Horizontal pouch packaging solutions are available to suit a wide range of contents. Irregularly shaped items and products with sharp corners benefit from additional protection provided by thicker gauge materials.

In addition to consumer retail goods, flow wrapping is widely used to aid in the distribution of printed promotional materials and product samples. Like baseball cards, flat stock coupons and business premiums are encased using fin seal overwrapping. The packets are then glued to magazines, newspapers, and other periodicals to be efficiently distributed to circular subscribers.

Though they are inexpensive to create, horizontal pouch packages impart a tamper-proof perception that is adequate for consumer applications like wrapping disposable silverware and encasing food samples intended for mass distribution.

Contract flow wrapping prices are tied to many fulfillment variables. The size and shape of the item to be packaged impact the cost per piece and product-specific features that come to bear on materials and process requirements. Total volume, pack-out needs, freight, and other concerns must be considered when pricing fin-seal overwrapping projects.

If you have a retail-ready product that needs fin-seal overwrapping or other flexible packaging, feel free to request a quote or give us a call. A packaging specialist will discuss your unique project and guide you on the best packaging solutions.

Posted in