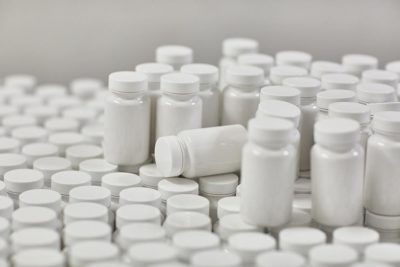 Selling products is one of the best ways to increase your profit margin as a retailer. But did you know you don't have to create a product from scratch to sell one under your name?
Usually, you want to source your materials and manufacture the goods independently. But through private label branding, all you need to do is find the best product online to add your brand name and sell that product online.
This guide will discuss everything you must know about private labels before you can sell one. More importantly, you will learn the crucial role that packaging plays in the world of private-label branding.
What Does Private Label Mean?
Private label allows you to outsource the manufacturing of products to a company and then purchase the rights for selling them.
You may have purchased private label products before in supermarkets. Private-label brands make up 15% of supermarket sales. And while it seems like a small figure, there is foreseeable growth to niche private-label brands. We will discuss a few examples later.
Aside from supermarkets, lots of private-label brands sell their products online. The Amazon FBA (Fulfillment By Amazon) program enables sellers to generate orders for their private label products. Once customers place the orders, Amazon will package and ship the items to the buyers.
According to Marketplace Pulse, 66% of the top 10,000 sellers are part of the FBA program. The selling point of Amazon FBA is its massive reach. With over 12 online marketplaces across the globe and product sales of up to $119 billion, it's not typical for a private label business to make north of $70,000 in FBA sales per month.
Need help with your packaging?
Click below to get a quote and discuss your project requirements.
Request For Quote
How Does Private Labeling Work?
Private label manufacturers strike an agreement with brands that will use their products.
For example, a brand wants to add bath soap and expand its personal care product line. Instead of making the soap bar, they can purchase the soap from a manufacturer who will allow the brand to promote the soap as their own.
It's also possible for brands to look for private-label products that they can use as ingredients for their product. Let's say the brand already has a line of soap. They can find a coconut oil supplier, a natural ingredient of soap, to help them create the product they're after.
Finally, brands will promote the product as their own without any mention of the supplier. Once the private label manufacturer agrees to sell the products to the brand, the latter can promote the product in any way it wants.
Businesses go to private label branding for a variety of reasons. For one, it is a highly scalable venture that allows you to manage the cost and profitability without investing too much into it.
For example, you might find there's increased demand in the market for products you're not selling. Therefore, instead of bending to people's will and investing in workforce and equipment to create this product, you can reach out to manufacturers and acquire their private label rights.
Once the product starts getting traction, you can consider ordering more from the manufacturer or set up your manufacturing plant for the product.
Of course, when branding private label products, you also need to worry about their packaging. You cannot correctly sell a private-label product without the correct labeling and packaging. And there's a chance that you don't have the materials to create the right container for your product.
Therefore, it is crucial that you also check the availability of contract packaging along with your private-label products. Securing one that will supply the best containers depending on your product and customer demands will determine this business venture's success and profitability.
White Label vs. Private Label
There's often confusion between "white-label" and private-label. While they are similar in approach, they have an obvious differentiator.
With white labeling, manufacturers can sell the products to as many brands as they wish. So if brands purchase soap bars from the same manufacturer, they run the risk of having products that people can't distinguish in the market.
You can't say the same thing about private-label products. Once you agree with a manufacturer regarding private labeling, you have exclusive rights to the product. Nobody else except you can sell and brand the product as yours.
Therefore, if you want to make your product unique and different from everyone else's in the market, go with private label branding.
Private Brand Examples
To see how private label branding works, below are examples of large brands selling private label products.
They prove that private labeling works at all levels of the supply chain. Even if you have an established brand, selling private label products is smart to turn a profit and lower costs.
Costco
Lots of people love the warehouse store Costco for a variety of reasons. One of them is Kirkland Signature, an in-house store brand that offers premium products at low prices.
Under the Kirkland Signature flagship, Costco sells various products, from nuts to clothing and luggage, to gasoline.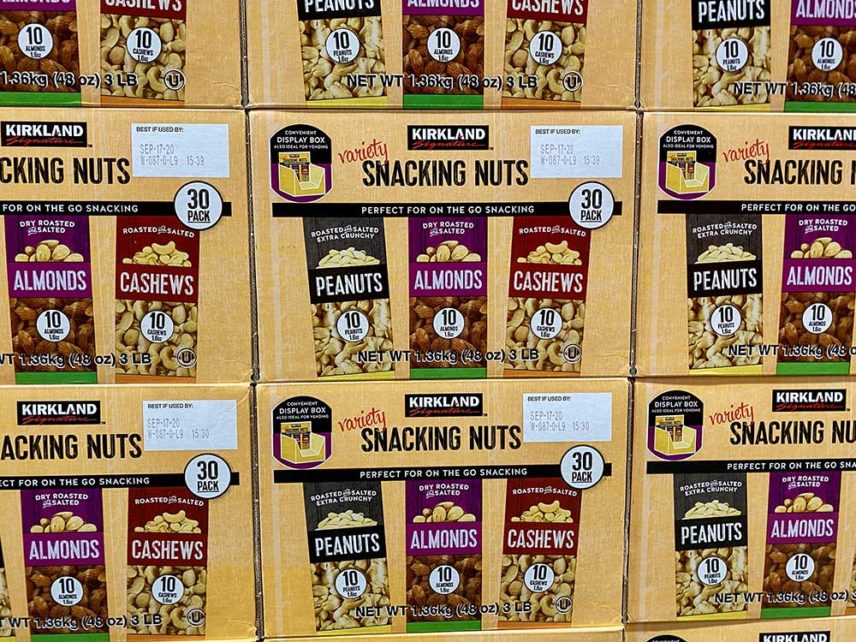 If you have tried Kirkland products before, you would notice their similarities to high-end brands. It's because Costco struck a deal with the same brands to private label the products. For example, Starbucks provides coffee beans and grounds sold under Kirkland Signature Coffee.
And in true Kirkland fashion, you can buy Starbucks coffee at Costco at lower prices. You can buy a 20 lb. bag of Kirkland Signature House Coffee at $10.49 (31¢/oz). At Target, you can purchase a 20oz pack of Starbucks coffee for almost twice the price ($12.79, 60¢/oz).
You can see other brands working with Costco in this article.
Suffice to say, if you want to get the most value for your buck, then you're better off spending it on Kirkland products.
In fact, more and more people are lining up to buy Kirkland goods. According to Costco's annual report in 2018, the store increased its sales from $35 billion last year to $39 billion. Aside from growing its sales by 10%, Kirkland also comprises a third of Costco's total sales.
This goes to show that private label, when done right, can yield your brand profits.
Great Value
Retail giant Walmart is synonymous with affordable products. And nothing is more affordable than its line of Great Value products.
Similar to what Kirkland Signature is to CostCo, Great Value is the flagship brand of Walmart. Through the brand, Walmart offers traditional grocery products to consumers.
Aside from Great Value, the store carries multiple private-label brands like Equate (health and beauty items), Mainstays (kitchen utensils and home decor), etc.
In fact, Walmart went all-in with private-label branding. 40% of the products it sells are private label brands.
AmazonBasics
With the ever-increasing popularity of e-commerce, it only fits that Amazon threw its hat in the private label branding ring.
The online store launched multiple brands to varying successes. However, AmazonBasics serves to be its most popular one.
Starting in 2009, the brand sells household goods and electronics to customers.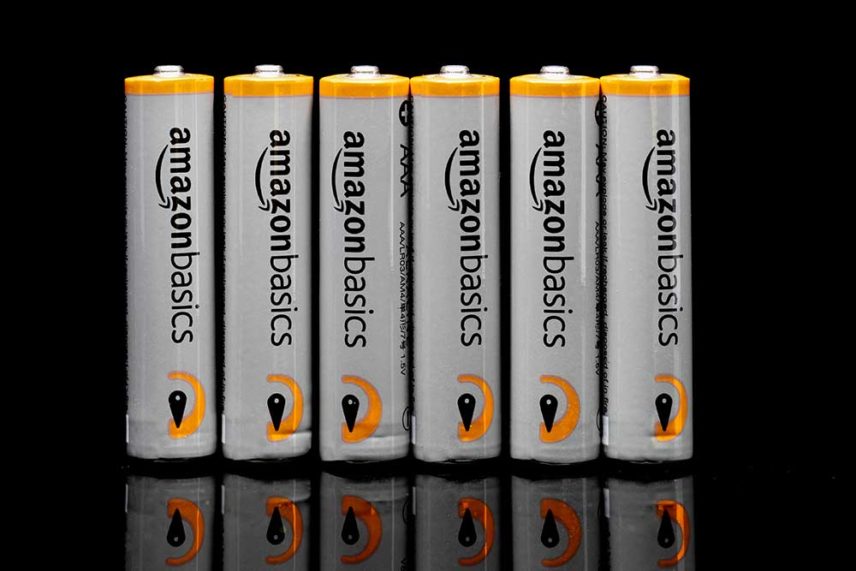 It accounts for 58% of sales from all their private label products. It is far ahead of the following top brands: Amazon Collection (8%) and Amazon Essentials (5%).
In 2020, AmazonBasics was looking to sell its products offline, starting in India to expand its market reach.
Because, at this point, Amazon private label sales aren't pushing the needle in terms of value. According to an Amazon spokesperson, private label brands comprise less than 1% of total sales.
Nonetheless, you cannot count out Amazon just yet despite the lackluster performance of its private brands. Look for the online store to find ways to push its products to people first ahead of other brands.
For example, when you ask Alexa where to buy batteries, it gives you Amazon Basics suggestions to purchase.
How to Start a Private Label Business
At this point, you now know how profitable and economical private-label products are. So, you're thinking of ways to penetrate your market using them.
Launching a private label business is a tall order if you don't know where to begin. Lucky for you, below is a quick step-by-step guide on how to secure private-label products.
Conduct Product Research
You must research the product you will sell in your brand. Ideally, you want products related to your business. However, the most profitable products to white label may not be relevant at all.
For instance, many people use products for different reasons: to look and stay healthy, slow down aging, protect their skin, and others.
However, what's more, important is that the skincare industry has a projected market share of $180 billion in 2020. The number speaks for itself: there is a huge market and demand for skincare products.
It won't make sense to sell skincare products if you're in the food or automobile industry. It doesn't matter how lucrative a product is. Selling a product outside your brand would be a hard sell.
Instead, you need to choose products that you feel confident in selling. Also, the profitability of the products depends on your niche. It may not drive millions of dollars in your yearly revenue, but the product should be in line with your business.
Next, consider how many people are searching for this product. You can start by looking for Facebook Groups and other online communities related to the product. The more members there are in these groups, the bigger the demand for the product.
Also, consider looking at how many people are searching online for your product. You can use almost any keyword research tool to get an idea of a product's monthly search volume.
Choosing the Right Manufacturer
You want a manufacturer that produces high-quality products at low costs. Not to mention, you want those that can deliver the products fast.
Filtering out manufacturers about these factors is made easy using online marketplaces like Alibaba and Salehoo. These are the top places to contact product suppliers.
Using these platforms, you can also see each manufacturer's customer rating, the number of orders received and delivered, and a percentage score for their response and delivery rate. These help you further narrow down your list of suppliers to contact.
Once you have finalized your list, reach out to each and ask anything else you want to know about them. Be as thorough as possible to help you determine the best ones from the rest.
Applying Your Branding on the Packaging
Once you have secured the products, you need to package them with your branding on it.
For customers, appearance is everything.
Assuming they can't try the product, they will judge products based on their looks and how much they cost. Regarding the former, you need to package these products to reflect your branding. Also, the quality of the packaging material should be top-notch.
According to studies, hard packaging evokes a feeling of stability, which is good. On the contrary, consumers interpret rigid packaging as harsh and difficult. What people feel about the packaging can influence their buying decisions.
If you want to create a perception of an upscale brand, then your packaging must reflect that. At least, that's what 61% of consumers feel.
Therefore, you must consider these factors when presenting your private-label products. How good the product it won't matter if the packaging does not compel people to buy.
In Conclusion
As discussed above, there is value in implementing private-label branding into your business. Not only will you bring in greater revenue, but you will also provide consumers with a more affordable alternative to an established brand. It's a win-win on both sides.
However, you can only win with private-label products if you do it the right way. The key is doing your research and finding the right products to sell under your brand.
The tips above are an overview of how to get your private-label goods off the ground. It would be best if you did things regarding private labeling, which is dependent on your industry and is a case-to-case basis.
Nonetheless, this guide covered everything you need to know about private labeling and how you can implement it.
With regard to packaging, you may want to consider us at Assemblies as your packaging company of choice. We offer custom packaging solutions for every product, with quick turnaround and excellent customer service.
More importantly, we can handle fulfillment services for your private-label products.
To learn more about how we can help you with your packaging needs, please request a quote.